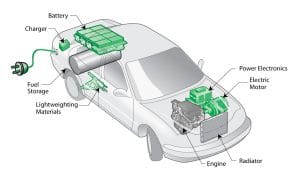 A plug-in hybrid car enables you to get the best of both worlds in that it combines a petrol or diesel engine with an electric motor that you can charge at the mains.
Below are some of the advantages and disadvantages of a plug-in hybrid car and some information to help you decide if it's right for you.
Advantages
Plug-in hybrid cars are perfect for driving in urban settings since some models enable you to drive up to 30 miles on electric power only. This is not only great for the environment but it also helps you to save on fuel costs significantly.
There is no range limitation on plug-in hybrid cars since the petrol or diesel engine will provide power once the battery has been depleted.
Because plug-in hyrids have low emissions, they're exempt from regular road tax and come with very low company car tax rates, making them ideal for business use.
The majority of plug-in hybrid cars are exempt from the London Congestion Charge.
If you're thinking of buying a plug-in hybrid car then you may be eligible to receive a grant from the government of 25% towards the price of the car (maxium of £5,000)
Disadvantages
While you'll certainly save money in fuel costs by driving a plug-in hybrid car, the intial investment is higher compared to a regular petrol or diesel engine car.
You will need to plug the vehicle into the mains in order to charge it and take advantage of the electric motor. However there is a government grant available if you need to install a domestic charging point at your home.
Because it combins a petrol/diesel engine with an electric motor, you cannot get the same number of miles on electric power as you would with a pure electric car. For this reason, an electric car would be a better choice if you want to save the most on fuel costs and cut your fuel emissions to zero.
Is it right for you?
A plug-in hybrid car is ideal if you do a lot of driving in the city and want to save some money on fuel consumption and cut down your emissions. Plug-in hybrid cars can also be great for rural driving too though, particularly if your average drive from point A to point B is 20 miles or less. Having a domestic charge point at your home means you don't have to worry about being near a petrol station to top up either.